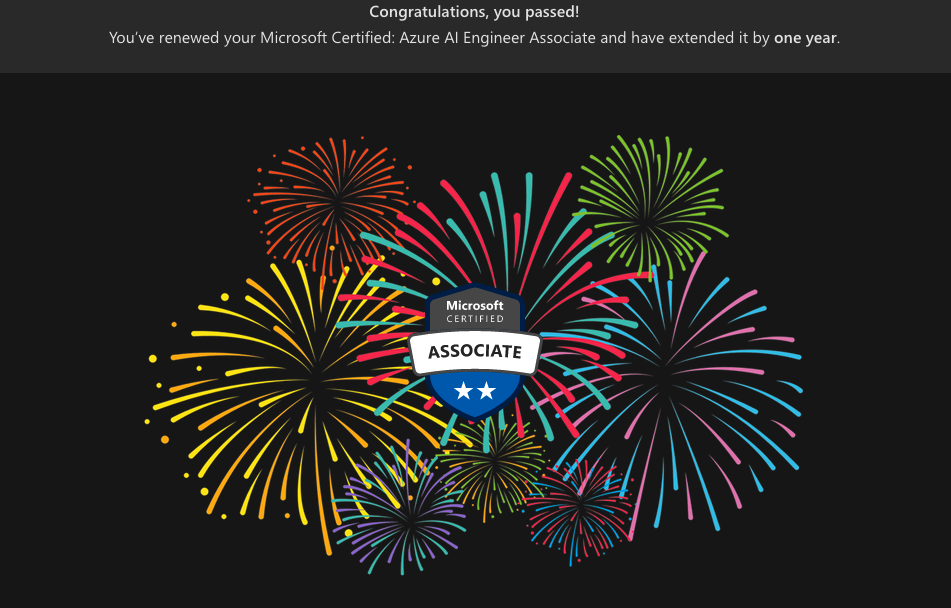 Beginning in June 2021, Microsoft role-based and specialty certifications expire after one year (It used to be two years). The reason behind this change of policy is to keep pace with the evolving cloud technology and validate the skills needed for the job market.
Renewal Process
The good news is that Microsoft introduced a free renewal process for certifications. Now it is possible to renew the certificates 6 months before they expire. Microsoft sends reminder emails to your Microsoft Learn account. Make sure to check that out.
Free Unlimited Exams
To renew a certificate, you just need to pass a free and unproctored assessment exam. You will become eligible to take the exam already 6 months before the certificate expires. You can take the exam as many times as needed before the certificate expires. That is awesome.
My Experience
Recently, I passed the exam in the first attempt to renew my Azure AI Engineer Associate certificate. To take the exam, you need to link your Microsoft certification dashboard account to Microsoft Learn account. If you want to refresh your skills, head over to Microsoft Learn and review the free learn modules for your certificate.
I skipped the review and went directly to the exam. The exam is estimated to take about 45 minutes but there is no time limit on the exam. I managed to answer all 24 questions and passed on the first attempt in less than 30 minutes.
The questions were related to new topics as well as older ones. I see the value in refreshing my skills each year as long the renewal process is free, online and as straightforward as it is today.
Keep in mind that taking a renewal exam is the only way to renew a certificate. I highly recommend taking the exam as early as you are eligible. There is no limit on how many times to take the exam, however after the second try, there is 24 hours break between each exam.
Keep in mind that new expiration dates might take 24-48 hours to be reflected in your certifications. For me, it took about 24 hours. The Credly badges are also automatically updated with the new expiration dates.
My next certification (Azure Administrator Associate) is expiring in October 2022, and I am planning to renew it as soon as I can spare 45 minutes! Let's see if I can pass on the first attempt.
Update: I passed (first attempt) the renewal exam for Azure Administrator Associate certificate by the end of April. It took me about 45 minutes to answer 28 questions. I had to check Microsoft Docs and Google to refresh my mind on some of the topics. The goal is to stay up to date and refresh the knowledge 😉